Boots is really becoming like a mini Sephora these days with the number of highend brands they now stock and the introduction of beauty boxes containing a curated mix of themed products. The latest box is the Boots Skincare Glow Beauty Box Summer 2020 and that's what I'll be reviewing today.
*Post contains affiliate links, which means I earn a small commission if you buy through my link. This post is not sponsored and all opinions are my own*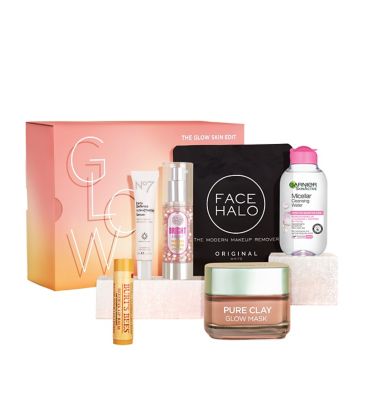 Image from Boots.com
What's in the Skincare Glow Beauty Box?
Just to note, this box was advertised as containing the Garnier Rose Mini Micellar Water but I was disappointed to receive the original Garnier micellar water instead. This information has been changed on the website now for anyone wanting to purchase and I've contacted Boots for comment.
Garnier Mini Micellar 100ml – RRP £2.50
L'Oreal Paris Pure Clay Glow Mask- RRP £7.99
Soap & Glory Bright & Pearly Serum- RRP £14
Burt's Bees Lip Balm- RRP £3.99
No7 Early Defence Glow Activating Serum- RRP £25.00
Face Halo Makeup Remover Pad Single- RRP £7
Garnier Micellar Water
Everyone has tried this. I don't know what to say about it really. I wish I had the rose one!
L'Oreal Paris Pure Clay Glow Mask
I've tried a few of the L'Oreal clay masks but I actually haven't tried the glow one and I've used up all my clay masks so very happy to give this a go.
Soap & Glory Bright & Pearly Serum
I've wanted to try this glow pearl serum for ages so this is one of the reasons I picked up this beauty box. I'm already using some good serums at the moment but I do use them up a bit faster than other skincare items so I'm sure I'll get to try this soon.
Burt's Bees Lip Balm
I pretty much never buy lip balm like this for myself anymore but everyone needs lip balm, right? Not exactly the most interesting product in the box but I'm definitely not mad at it either.
No7 Early Defence Glow Activating Serum
This serum alone retails for £25 and, while I might not have picked it out for myself, I am becoming more interested in No7 products so I'm looking forward to testing this.
Face Halo Makeup Remover Pad Single
I've tried the Face Halo before and thought it was the best thing ever back then but there are cheaper alternatives that do the same job of removing makeup with just water now. I'm quite happy to receive another one as it's still a product I will use.
Who should buy this?
If you want to give your skin a glowing treat, I think this skincare box is great value for money, boasting a £60 RRP for just £25. If you're interesting in trying some of these products or there's already some favourites in here that you know you'll use, this is a fantastic way to treat yourself.